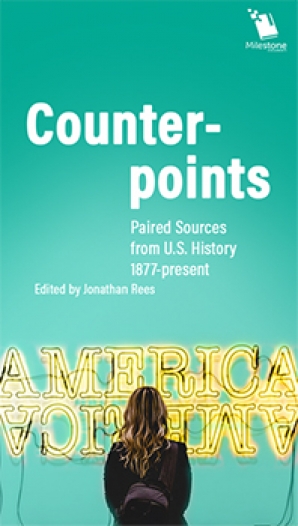 Counterpoints
Paired Sources from U.S. History, 1877-present
Published by: Schlager Group Inc.
This innovative book brings paired documents on twelve subjects together to showcase different perspectives on the same historical topic. In so doing, it helps students grapple with the complicated nature of history, how it is made, and how historians interpret the past. The carefully selected primary documents in Counterpoints promote student analysis and a deeper understanding of historical events. As editor Jonathan Rees says in the Introduction, "Introducing primary sources and explaining their exact relationship to historical events is one way to raise the issues associated with doing history rather than just learning what happened."
Each of the twelve units contains a unit overview to provide students with context, followed by two documents. Each document contains a document overview for further context. The document pair is then followed by discussion questions that challenge students to reflect on the topic and think critically about the different perspectives on it.