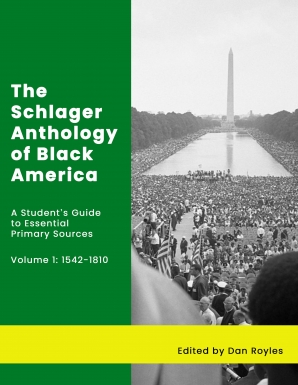 The Schlager Anthology of Black America
A Student's Guide to Essential Primary Sources
Published by: Schlager Group Inc.
1000 pages, 0.00 x 0.00 x 0.00, Photographs and drawings
Hardcover
ISBN: 9781935306580
Published: August 2021
$375.00
BUY
FREE 1-year access to Milestone Documents Online (subscription database) with the purchase of any Schlager Group print publication! Learn more.
We accept purchase orders! Email us. Also available as an ebook (ISBN 9781935306627). Check with your library ebook vendor.

The Schlager Anthology of Black America offers a modern, original sourcebook covering Black history from the 1500s to the present. From the creators and publishers of Milestone Documents in American History, this new three-volume set is built on the principles of inclusivity and accessibility. While presenting the essential primary sources from Black history, from iconic figures such as Frederick Douglass, W.E.B. Du Bois, and Martin Luther King Jr., this anthology also emphasizes often-marginalized voices, from women to those in the LGBTQ community. In addition, document texts are abridged to remain brief and accessible, even to struggling readers (including ESL students), while activity questions range in difficulty from basic to more advanced. Edited by Dan Royles (To Make the Wounded Whole) and featuring the contributions of numerous scholars, The Schlager Anthology of Black America covers more than 250 milestone sources from African American history.
An Inclusive Approach
The Schlager Anthology of Black America includes all of the classic documents from African American history, while also emphasizing a wide spectrum of voices and perspectives. In Unit 1 ("Many Thousands Gone: Black Experiences in Colonial America"), the set opens with the little-known 1540s narrative of Estevanico el Negro, possibly the first African-born person to set foot in what would later become the continental United States. From there, students and researchers will find slave codes from colonies like Virginia and Louisiana as well as early anti-slavery tracts from John Woolman and slave narratives from Olaudah Equiano and Venture.
As the anthology moves through the American Revolution and Early Republic periods, it covers important pieces from Phillis Wheatley, Prince Hall, and Peter Williams; critical legislation such as the Missouri Compromise; and the intersection of Black slavery and Native American life. The middle units explore the decades before, during, and after the Civil War, as African Americans fought to achieve emancipation and some semblance of civil rights. In the wake of the war's triumph—the eradication of slavery—came "The Betrayal of the Negro" (Unit 7), as Black advances during Reconstruction were wiped out with the advent of Jim Crow laws and Black codes. Critical voices such as Frederick Douglass, Anna Julia Cooper, Mary Church Terrell, and Ida B. Wells are featured in this unit, along with important court cases such as Pace v. Alabama and Plessy v. Ferguson.
As the anthology moves through the twentieth century, it guides students through the important documents and events of each decade, from World War I and race riots in Texas and Oklahoma to the upheaval of the Great Depression and World War II. The flowering of Black cultural life and Black economic struggles during the 1920s and 1930s are seen in sources from Alain Locke and Helene Johnson to Robert Clifton Weaver and Mary McLeod Bethune. The Civil Rights Movement of the 1950s and 1960s is covered via iconic activists like Martin Luther King Jr., Bayard Rustin, Ella Baker, Malcolm X, and Fannie Lou Hamer. The final units cover Black feminism, gender, and sexuality, Black politics in the 70s, 80s, and 90s, and the election of Barack Obama, before ending with the creation of the Black Lives Matter movement and platform.
A Focus on Accessibility
The Schlager Anthology of Black America features carefully curated primary sources along with highly targeted activities to help students engage with and analyze primary documents from all periods of African American history, from the 1500s to the present. Document texts are carefully abridged to remain brief and accessible, even to struggling readers (including ESL students), both at the high school as well as early college levels. The commentary that accompanies each document is simple and straightforward. First, a fact box contains the key information about the source: document title, author name, date, document type, and a brief statement of the document's significance. Next, each document includes a concise overview section that places the source in its proper historical context. Following the document text is a list of activity questions that prompt students to think more deeply about the source and its meaning and impact.
Other Features
In addition to the 250 sources and accompanying commentary, The Schlager Anthology of Black America includes unit introductions and Further Readings sections for each of the sixteen units in the set. The set also features a comprehensive subject index and an appendix of document categories.
The Schlager Anthology of Black America represents a modern approach to historical reference. It is an essential resource for students, researchers, and teachers of Black history and is appropriate for high school, academic, and public libraries.