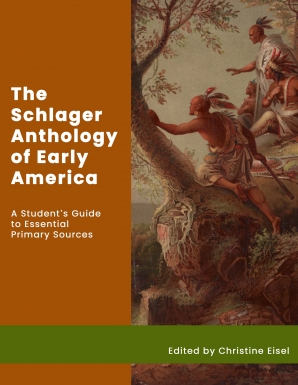 The Schlager Anthology of Early America
A Student's Guide to Essential Primary Sources
Published by: Schlager Group Inc.
350 pages, Photographs and drawings
Hardcover
ISBN: 9781935306665
Published: October 2021
$145.00
BUY
We accept purchase orders! Email us. Also available as an ebook (ISBN 9781935306672). Check with your library ebook vendor.
The Schlager Anthology of Early America offers an accessible, inclusive sourcebook covering a pivotal era in U.S. history. The set features carefully curated primary sources along with highly targeted activities to help students engage with and analyze primary documents, from the arrival of Spanish explorers and English settlers to the stirrings of revolutionary sentiment in the 1750s. Presenting marginalized voices, including women, African Americans, and Native Americans, this anthology represents a modern approach to historical reference. Document texts are abridged to remain brief and accessible, even to struggling readers (including ESL students), while activity questions range in difficulty from basic to more advanced. Edited by Christine Eisel (University of Memphis) and featuring the contributions of numerous scholars, The Schlager Anthology of Early America is an essential reference for students, researchers, and teachers of early American history.