In the last half decade, the word intersectionality has gone viral. A legal term coined in 1989 by Columbia University Professor Kimberlé Crenshaw, it remained in academic circles for much of the 1990s. Since then, it has entered popular currency and become widely used in a variety of disciplines.
Although it has entered popular discourse in the twenty-first century, the word is often misunderstood. Intersectionality simply means that social categorizations like race, class, and gender, are not discrete. A person's experience of oppression and discrimination results from the overlap of various social identities.
Intersectionality: A Closer Look
Given the popularity of the term, it is important that we understand how writers have been exploring the concept of intersectionality for decades.
Audre Lorde and June Jordan were two prominent Black feminist writers of the twentieth century. Lorde identified as lesbian and Jordan identified as bixsexual, and their writings address the intersection between race, gender, sexual identity, and representation.
We invite you to explore Lorde's "Poetry is Not a Luxury," which emphasizes the need for Black women to find their voices and speak for themselves, alongside Jordan's "A New Politics of Sexuality," which serves as a rallying cry for the inclusion of bisexuality in human rights and a challenge to identity politics that practice exclusion. A study of these documents, featured in The Schlager Anthology of Black America, showcases how the texts are in conversation with each other and what they say about queer, Black, feminist identity. This Pride month, we celebrate Lorde and Jordan and their contributions to LGBTQIA+ history and intersectional literature.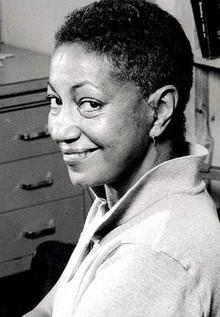 Audre Lorde
Audre Lorde (1934–1992) was perhaps the best-known Black feminist lesbian poet and essayist working in America in the late twentieth century. She was the daughter of two Caribbean immigrants who had come to New York City and settled in Harlem. Lorde is especially well known for her collection Sister Outsider: Essays and Speeches (1984), which includes "Poetry Is Not a Luxury."
Lorde began writing poems when she turned eight. She attended Catholic schools in New York, where her dark skin marked her as different from her classmates. In addition, her parents' relationship with her was distant most of the time. Those factors contributed to Lorde's sense of herself as an outsider, the theme that unifies the essays in her collection Sister Outsider.
Lorde earned a master's degree in library science from Columbia University in 1961 and later served as writer-in-residence at Tougaloo College. She held professorships at Lehman College, John Jay College, Hunter College, and the Free University of Berlin. She won acclaim for her poetry beginning in the 1970s—she was named Poet Laureate of the state of New York in 1991—but she did not begin publishing her prose until the 1980s. By that time she had been diagnosed with cancer. She retired to St. Croix in the U.S. Virgin Islands and died there on November 17, 1992.
June Jordan
Born just two years after Lorde in 1936, June Jordan was one of the most prolific Black writers of the later twentieth century. Born in Harlem to parents from Jamaica, she attended Barnard College, married a white graduate student, had a son, and joined the civil rights movement. The couple divorced in 1965, and Jordan was faced with the challenge of raising her son as a single parent. In 1967 she began to teach at the City College of New York. She later joined the faculties of Connecticut College, Sarah Lawrence College, and Yale University before moving on to the State University of New York at Sony Brook. There she directed the Poetry Center and held a post as professor of English until 1989.
In 1989 Jordan joined the faculty as professor of English, women's studies, and African American studies at the University of California, Berkeley, where she founded the Poetry for the People program. She held those posts at the university until her death from breast cancer in June 2002.
"A New Politics of Sexuality" was originally an address to Stanford University's Bisexual, Gay, and Lesbian Student Association. In it, Jordan, who identified as bisexual, expresses her dissatisfaction with the idea of identity politics—not its political aims, but the idea of having to adhere to a group identity that was not chosen by the individual involved.